Impossible Foods unveils plant-based milk prototype
20 October 2020
Editor's choice
The meat alternative giant says its next 'Impossible' product is dairy-free milk from plants
Impossible Foods' newest project is the production of dairy-free 'functional' milk, the US-based company has revealed. The burger and sausage maker also announced that it's doubling the size of its Silicon Valley-based R&D team over the next year. The expansion will see the launch of the 'Impossible Investigator" – an initiative to lure scientists into joining its ranks.
"Scientists want to solve the world's biggest challenges. And the greatest problem we face today is our reliance on animal agriculture – the most destructive technology on Earth," said Patrick Brown, Impossible Foods founder and chief executive.
He added: "The Impossible Investigator project is an opportunity for scientists and engineers – in or on the threshold of an academic career – to choose another path with the biggest positive impact on humanity and our planet: using science to eliminate the most urgent existential threat we face."
Impossible Foods has raised $1.5 billion since its inception in 2011, including $200 million raised in August. The company said that over the next six to 12 months, R&D will receive the largest percentage increase in investment of any area in the company.
The latest cash injection will support Impossible's R&D pipeline with the view to include steak, bacon, and fish by 2035.
'Impossible' milk
Speaking at a virtual conference, Laura Kilman, Impossible Foods senior flavour scientist, demonstrated the functionality of the milk prototype when poured into hot coffee – the plant-based milk did not separate the way many plant-based milk alternatives in the market do.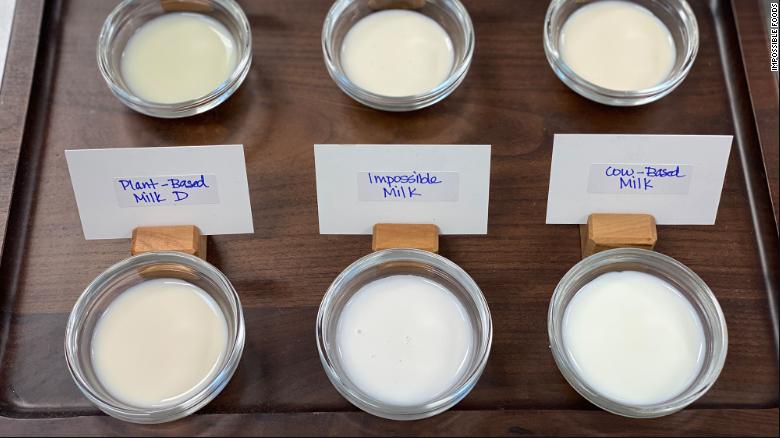 The plant-based milk alternative that Impossible Foods is working on is still in the development stage, and is not yet clear what the go-to-market plan is, or the name of the product – Impossible Milk is in the cards.
Impossible Foods has seen continued growth in retail and online channels across the US. While the new Impossible Sausage made its debut in its domestic market, September marked its international expansion – it is now sold in 200 stores in Hong Kong and Singapore.
Last year, the company submitted its 'heme', the soy leghemoglobin it bio-engineered to give its meat products the bloody look and flavour, for Novel Food approval to begin commercialisation in Europe.