NutritionInvestor investigates the whos, the hows and the wows in the 3D-printed food space through interviews with Natural Machines, Redefine Meat, SavorEat and Legendary Vish
By Murielle Gonzalez
"Dinner is printed!" is not a line of science fiction but a reality thanks to companies like Natural Machines, Redefine Meat, SavorEat and Legendary Vish, which have developed new-generation technology that allows the creation of food through additive manufacturing techniques, eliminating animals from the equation while providing food safety and personalised nutrition in the process.
The $4.75 million seed funding that Israeli SavorEat raised within two weeks this month signals how hot this emerging food-tech is for investors.
SavorEat was backed by the government and big names in the Israeli investment community – Ori Mor of the Mor Langermann investment bank and investment house Meitav Dash – based on its proof of concept and patented technology. Investors valued the company at $25 million.
"It's quite an exciting opportunity," says Racheli Vizman, co-founder and chief executive of SavorEat. "It's a growing market, and there is room for many more players. Some of them are coming from Israel because of the food-tech ecosystem. Start-ups have the support of the government and visionary investors."
For Vizman, the time has come to start thinking differently about innovation, food and sustainability. "The question is not what's happening today, but what's going to happen in five to 10 years from now," she says. Vizman argues this mindset is making 3D-printed food such an attractive space.
Potential investable market
Various market research companies have surveyed this budding sector, and forecasts suggest the global 3D food-tech market will reach a $400 million value by 2025, growing annually at a rate in double digits. Market and Research, for example, said the edible printing market was worth $91 million in 2019.
That 3D-printed food is a fast-growing global trend is linked to the same factors skyrocketing sales of the gamut of animal-free food and drink products in the market: the need for an ecosystem that produces food sustainably and reduces food waste, that responds to the increasing demand for products with personalised nutrition, catering for a wide range of dietary requirements and lifestyle choices, from vegan and gluten-free to allergens and environmental concerns.
All these pressing needs are solved, one way or another, by the unique proposition behind the many 3D-printed food brands in the market today. That's right, there are dozens of businesses in the market, from all corners of the world and at a different stage of development, marketing 3D food printers for use at home or professional kitchens.
3D food printing: How it works
Printers' design and technology vary from one brand to another, but in a nutshell, 3D food printing machines use food-grade syringes (printing heads) that hold the printing material (food or ingredients), which then passes through a food-grade nozzle, and products are created layer by layer.
Advanced 3D food printers are driven by sophisticated software with pre-loaded recipes or designs, for example. The food can be customised in shape, colour, texture, flavour and nutrition, depending on the material being used.
Some 3D food printers are material-specific, for example, chocolate – and companies like Choc Edge in the UK simply transform the material into 3D-printed shapes. Other printers like Foodini, the brand of Natural Machines can take all sorts of foodstuff to create simple dishes like pizzas, spaghetti and nachos. Then there is bioprinting the technology used by Redefine Meat, an Israeli start-up, which in June unveiled its Alt-Steak, a cut of meat created with a sophisticated matrix of alternative ingredients – plant-based formulations of muscle, fat, blood, taste and flavour – ready to cook.
NutritionInvestor speaks to the founders of Natural Machines, Redefine Meat, SavorEat and Legendary Vish to find out more about the 3D-printed food space.
Natural Machines: 3D-printed food for sustainability
Lynette Kucsma and Emilio Sepulveda founded Natural Machines in 2012, and they launched Foodini, a 3D printing food kitchen appliance, which went on sales in 2018.
Foodini works with recyclable food capsules that users can fill with fresh ingredients.
"If you eat anything from a food manufacturer, like packaged food you buy in a supermarket, then you practically are already eating 3D printed food," says Kucsma. She explains that a food manufacturer takes food, pushes it through machines, shapes it and forms it, and that Foodini does exactly that.
"We've taken that same concept and shrunk the large food manufacturing facility down to a stylish appliance for your kitchen counter," she says. Kucsma argues that the big difference is that Foodini allows people to use their own fresh ingredients and customise their foods.
Headquartered in Barcelona, and with offices in New York City, Milan, and Beijing, Foodini is sold worldwide.
"We were not the first, but we are the best," says Kucsma. "This is still an early industry, but people ask me 'why it has taken you so long?', which is funny if you look at the microwave or the expresso machine, for example. It took them 30 years [from development to become ubiquitous], and we think 3D food printers will go the same route."
Kucsma launched Natural Machines inspired by personal convictions about healthier food, lifestyle and sustainability. She explains: "We use certain materials for the machines – stainless steel and recyclable capsules – and the business is aligned with the UN sustainable goals; goal 12 specifically (-[responsible consumption and production). And one of our investors is Closed Loop, an investment company in New York that invests in businesses supporting the circular economy concept."
Natural Machines is working with several partners in the food manufacturing and catering sectors. One partner is Matís, the fish company in Iceland. Both companies worked together to illustrate how Foodini can upcycle the trimmings of the fish that would otherwise go to waste and turn them into a visually attractive dish.
For Kucsma, Foodini is a kitchen appliance that helps users automate cooking processes. "You use a knife to chop tomatoes for a tomato sauce or you can use a food processor, right? That's how you automate your knife skills. With Foodini, you automate your skills in terms of presentation and creativity. It's a kitchen appliance that helps you to do things with the food."
Kucsma says Foodini was built from day one to be a 3D food printer, which is important for safety and hygiene reasons, and with software set up for further development. "It doesn't look like a printer either. It blends in with the kitchen, and that's great," she enthuses.
The vision of Natural Machine is to make Foodini a global kitchen appliance for home and professional kitchens, something Kucsma believes can be achieved in the next 10 to 20 years.
"Today we focus on professional kitchens, and the top sectors interested in Foodini are hospitality, restaurants and catering, even despite the Covid-19," says Kucsma. She believes that the trend of customising food, adding more value to the food you have, whether it is nutritional content, food ingredient, and so on, is helping Foodini gain traction in the market.
In terms of output, Kucsma says that a Michelin star restaurant in Barcelona with two Foodini devices cooks 200 dishes a day.
"Hospitals and medical nutrition are also interested in Foodini for cooking meals for people who have difficulty swallowing, for example. We do a lot of projects with cancer patients, and people with Covid-19, too," says Kucsma.
Foodini Pro is the next-generation device on the drawing board for development, which will have the capacity to cook the food with laser technology.
Redefine Meat: Alt-Steak for the meat industry
"The potential of 3D-printed food is big, but what needs to be done to make it a reality is really scary," says Eshchar Ben-Shitrit, Redefine Meat founder and chief executive."You need technology, investment, time, and regulation," he adds. Ben-Shitrit decided to take on the challenge as he established the start-up in 2018.
The Alt-Steak that Redefine Meat presented to the public in June, is not only a proof of concept but also a testament to the lengths the company has gone to create a substitute for meat that is just as good as the product it replaces.
"Is really challenging and takes a lot of time, but you have a very big problem to solve," says Ben-Shitrit. "You wouldn't enter this space as a gimmick. We started the company to remove the cow from the process and make cuts of meat that are tasty and nutritious, just as the meat, or even better."
In two years of operation, Ben-Shitrit and his team have studied the entire meat industry and supply chain and decided on a business-to-business model with the 3D food printer Redefine Meat has created being installed at the facilities of meat distributors.
Redefine Meat already has commercial agreements with customers. "The unit produces 10 kg an hour, which is good enough to hit the market," says Ben-Shitrit.
The start-up continually conducts taste runs with chefs and meat processors, using their feedback to improve the quality of the final product and productivity.
"The fundamental issue in this market is that the mouthfeel of meat is a connection between texture and flavour that you don't find in any other food product; it's unique to meat," says Ben-Shitrit.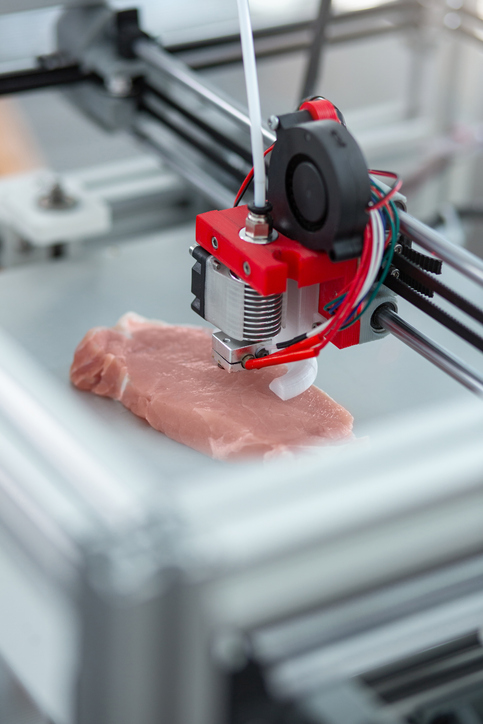 To achieve the taste and flavour of real meat, Redefine Meat teamed up with an expert. In close collaboration with Givaudan, the start-up has digitally mapped more than 70 sensorial parameters into its Alt-Steak products, including premium beef cuts' texture, juiciness, fat distribution and mouthfeel.
Ben-Shitrit recognises that he noticed the importance of mouthfeel by speaking to players in the meat industry. "They argue that until the alternative product doesn't replicate the muscle, it won't be able to compete on the same mouthfeel level," he recalls.
"You can do 3D printed sausages, burgers and meatballs, but when you do steaks, the mouthfeel is 10-times more complicated," he adds. "We think that the sector is stuck on creating products, but the challenge is not to increase the market but to open to a much bigger level of products that don't even exist yet."
As an Israeli start-up Redefine Meat enjoys the support of the country's food-tech hub. The company has also attracted investment from CPT Capital, a fund dedicated to investing in animal-free food businesses. "CPT Capital is one of the early investor of Beyond Meat," says Ben-Shitrit. "In the food ecosystem, we need a lot of collaboration, and they have the connections," he adds.
Redefine Meat is also a portfolio company of Hanaco, an Israeli venture capital, plus a small strategic investment from PHW, a chicken company.
For Ben-Shitrit, the importance of using precision 3D printing technology to achieve texture, colour and flavour, and the combinations between them, cannot be overstated.
"By using separate formulations for muscle, fat and blood, we can focus on each individual aspect of creating the perfect Alt-Steak product. This is unique to our 3D printing technology and lets us achieve unprecedented control of what happens inside the matrix of alt-meat," he says.
Ben-Shitrit told NutritionInvestor that Redefine Meat is setting up a factory, which is expected to be ready before the year-end. "As soon as the factory is finished we will start commercialisation in Israel," says Ben-Shitrit. He revealed that the second and third machines have already been sold to clients in Israel and that the fourth and fifth units are destined to customers in Europe.
SavorEat: 3D-printed food ready to eat
SavorEat is an Israeli start-up making waves in the 3D-printed food space. The company secured $4.75 million in seed investment to go ahead with a pilot unit to be installed at Burgus Burger Bar, the Israeli burger chain, next year.
Based in Ness Ziona in central Israel, SavorEat was founded in 2018 by serial biotech entrepreneur Racheli Vizman, SavorEat's chief executive, Ido Braslavsky and Oded Shoseyov, SavorEat's scientific director and inventor of the technology.
SavorEat's technology uses proprietary plant-based cellulose combined with other ingredients such as plant-based fats and protein to create a final, cooked product through a 3D printing process.
Vizman explains that SavorEat has created a binder, which is proprietary plant-based, gluten-free cellulose. "The cellulose is combined with other ingredients such as plant-based fats, protein, taste and flavour to make a fully cooked burger."
SavorEat has entered the market with a business-to-business model, targeting food manufacturers, catering companies, restaurants and hotels, and institutional kitchens.
"Once we get additional resources to develop additional products, we might be able to offer to consumers a home appliance, but we're not there yet," Vizman concludes.
Legendary Vish: 3D-printed seafood
While most companies in the market are targeting the protein challenge through the creation of an alternative to beef, a newcomer has entered the market with a product for bioprinting ingredients to create seafood.
Legendary Vish is a start-up founded this year in Vienna by student trio Robin Simsa, Theresa Rothenbücher, and Hakan Gürbüz.
In 2017, they participated in a research programme that was seeking to develop cell-based regenerative medicine for neurodegenerative disorders using 3D printing technology. The three saw the opportunity to apply the same technique to create texturised 3D printed plant-based proteins, and decided to tap into the need for animal-free seafood products.
"We want to become the first company that offers fully texturised seafood products to consumers who love the taste of fish and want to consume it in a more sustainable way," says Simsa.
The start-up has created a prototype and is currently testing highly nutritious algae and mushroom-based ingredients.
Simsa says that the company is still working on the finishing touches of hardware development and that next in the pipeline is the scale-up of production facilities.
Legendary Vish is currently raising funds to support these plans.
Back to 3D-printed trend report
Date published: 27 July 2020